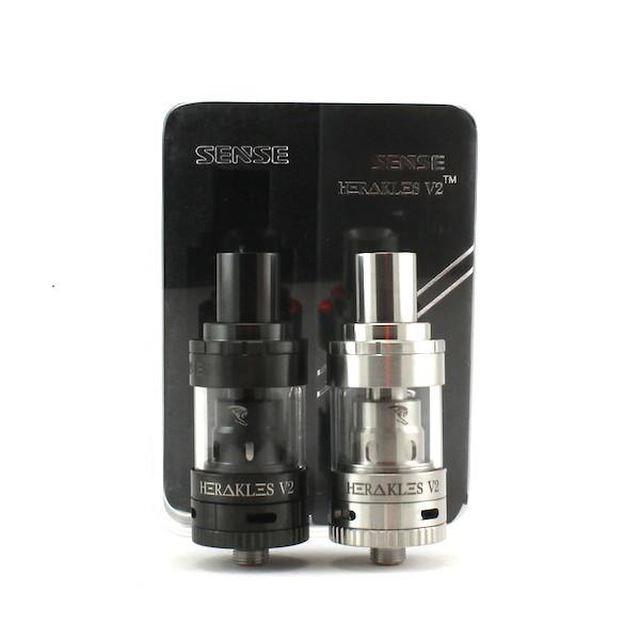 DISCONTINUED HARDWARE
Sense Herakles V2 SubOhm Tank
---
Sense Herakles V2 Tank
The Sense Herakles V2 is the compact progression of the Herakles Plus, implementing all of the main functionality and stylistic features of the original while redesigning to a compact form factor, featuring 2mL juice capacity, convenient top-fill capability, quad auxiliary airflow control, and Sense's signature Tri Parallel Coil Design. A continuation of high performance prowess, the Herakles V2 utilizes the Tri Parallel Coil Design as a versatile heating apparatus to pair with the shortened chimney, supplementing fantastic flavor creation and vapor capability. For additional synergy across the entire tank construction, airflow control adopts quad cyclops airslots, each measuring at 6mm by 2mm, for tremendous cloud production and effectively dissipate high heat. Wicking is improved with the e-juice control system, featuring 6 adjustable juice injets for efficient control of liquid utilization. Top-fill method adopts a simple twist off mechanism, resulting in convenient refills and significantly solve leaking problems. An included heat-insulated Stainless Steel widebore drip tip complete the entire tank structure. Manufactured out of Stainless Steel and Pyrex glass reinforcement in a beautiful and modern display, the Sense Herakles V2 is a top-of-the-line compact tank with a wide range of high-performance functionality.
Features:
• 2mL Juice Well
• 22mm Tank Diamenter
• Superior Stainless Steel Construction
• Pyrex Glass Reinforcement
• Stainless Steel Widebore Drip Tip
• Convenient Top-Fill Method
• Juice Flow Control System
• Quad Adjustable Airflow Control
• Sense's Tri Parallel Coil Design
• Herakles Plus Coils Compatible
• 0.4ohm Kanthal Coil (35~100W)Ì´Ì_
• 0.2ohm 316L Stainless Steel Coil (35~80W)
• 0.2ohm Ni200 Coil (212-572F)
• Copper-Plated 510 Contact Pin
Includes:
• 1 Herakles V2 Tank
• 1 0.4ohm Kanthal Coil
• 1 0.2ohm 316L Stainless Steel
• 1 Extra Glass Tube
• Instruction Manual
---
Share this Product
---
More from this collection
Sense Herakles V2 SubOhm Tank
has a rating of stars based on reviews.